"Disaster Girl" The Meme Worth Half Million Dollars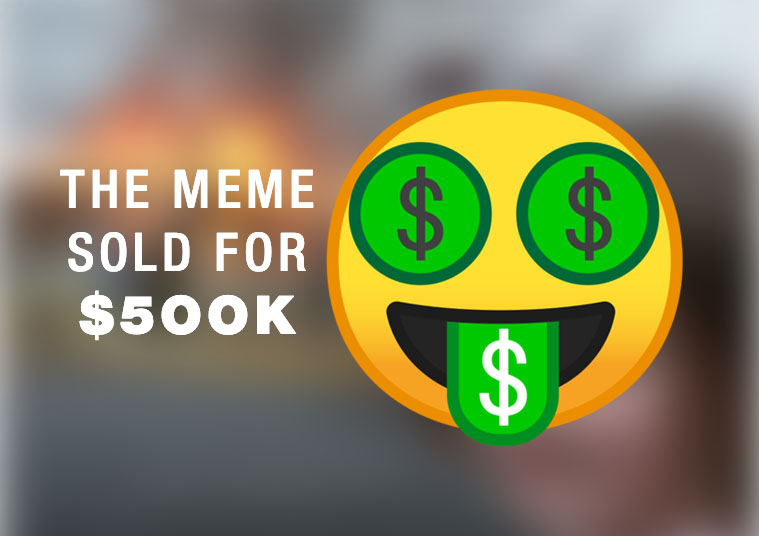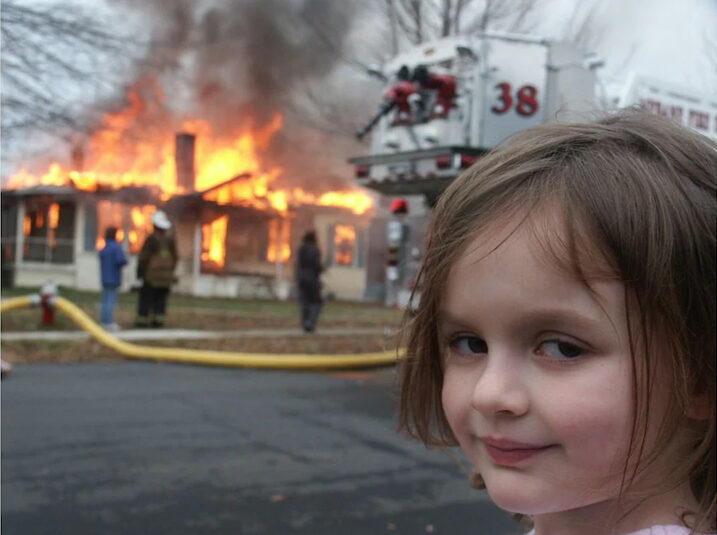 We all have seen this little girl standing in front of a burning house, smiling devilishly on camera. Yes, it's the "disaster girl". Who would have thought that her meme could be worth half a million dollars?
The girl in the "disaster girl" meme is Zoe Roth, who was just four years old by that time when her father took a picture of her standing in front of the burning house with a devilish smirk, leaving the viewers of her photo an impression that she has something to do with the disaster.
It was January 2005 when Zoe and her father, Dave Roth, went out to see a controlled fire scene started by firefighters. That house was used for training exercises of firefighters in Mebane, North Carolina. Dave was close behind with a camera in hand, asking her daughter Zoe to smile at the camera. Then he quickly took a few images of Zoe flashing a devilish smile as the house ablaze. But with all those pictures taken by her father, there's one photo that stood out, which was published in the year 2008.
Zoe's picture became popular when her father submitted it to JPG magazine's "Emotion Capture", and was posted online as it won the photography contest in 2008. The image turned out to become a viral meme being shared millions of times on different social media platforms.
Until Zoe and Dave sought some advice from some "meme's celebrities" on how they can make money out of the viral picture of Zoe. That's when they decided to sell the image as NFT, through Ben Lashes, an NFT entrepreneur who has made about $2 million in revenue because of its Grumpy Cat, Nyan Cat, Keyboard Cat, Doge, David After Dentist, and Success Kid.
Disaster Girl Auction:
The "Disaster Girl" token was then listed for a 24-hour auction last April 16, and a bidder known as 3F Music won and paid 180 Ether or almost $500,000. The buyer was believed to be a chief executive of a Dubai-based music studio, named Farzin Fardin Fard. However, since the NFT is coded in such a way that Zoe retains copyright, selling the picture does not imply that she loses her rights to the said image. She would still receive ten percent every time the "Disaster Girl" NFT is re-sold, giving her control over the viral image for the first time.
If you are wondering what NFT means, it is a one-of-a-kind or unique digital asset that is stored using blockchain technology. The majority of NFTs are stored on the Ethereum blockchain, which is a public ledger. Using the blockchain, NFTs allow users to buy and sell ownership of unique digital assets and keep track of who owns them. NFT stands for "non-fungible token," and it can contain any digital content, such as illustrations, animated GIFs, music, or video game products.
NFTs have been making headlines recently, with high-profile memes being placed to auctioned for millions of dollars. Below are the most expensive transactions for NFTs.
Everydays: the First 5000 Days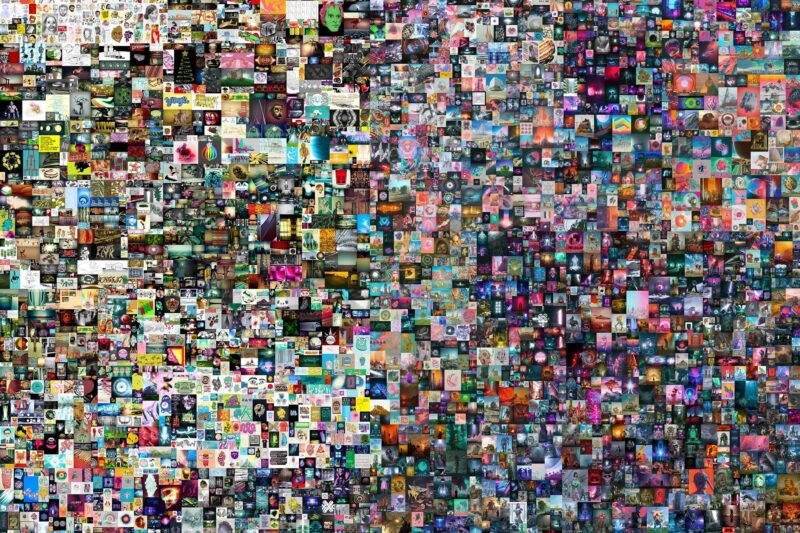 This is known as the highest-priced transaction of NFT that was sold for a price of $69.3 million. It was sold and put on auction at an auction house called Christie's by an artist named Beeple. The bidding started at $100 until it went higher and higher. It is an artwork made up of Beeple's first 5000 digital artwork containing different contents, styles, and mediums.
CryptoPunk #3100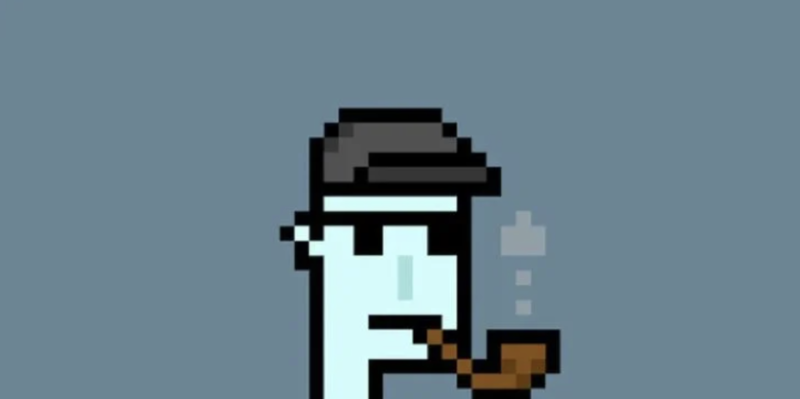 These are the first NFTs to be released on the market of the NFT world which was sold for $7.58 million. This punk is super rare since it belongs to the group of 9 aliens among the 10,000 punks in the store. The character comes with a blue-greenish skin tone and a headband which is also considered rare because only 406 punks have this accessory. While only 333 out of the 10,000 punks have a single accessory.
The First Tweet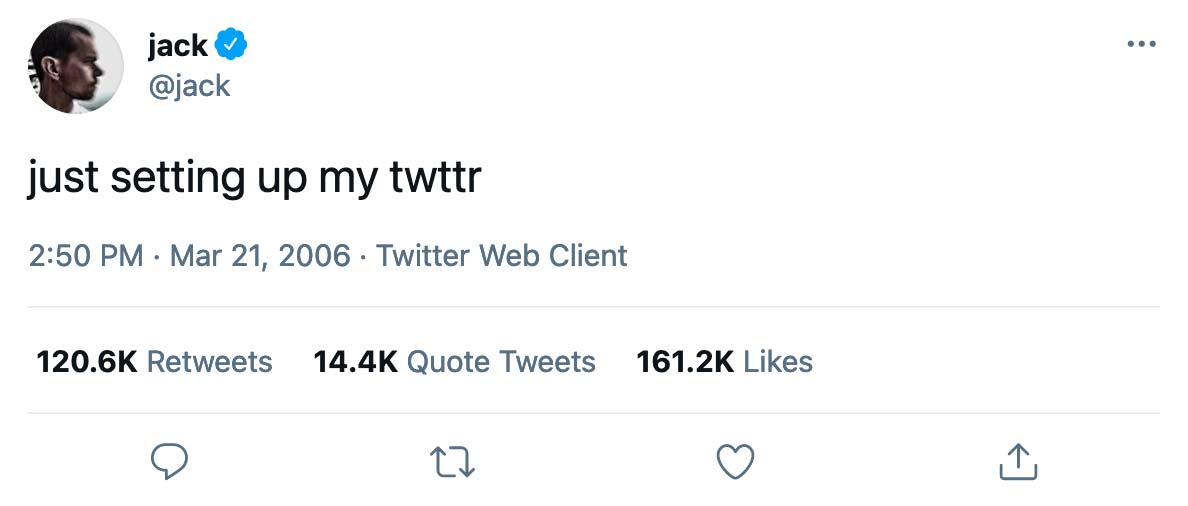 This is the most expensive NFT for the year 2021. It contains the very first tweet way back in 2006, by the CEO and founder Jack Dorsey, saying "just setting up my twitter." It was sold as an NFT to Oracle CEO Sina Estave for $2.9 million.